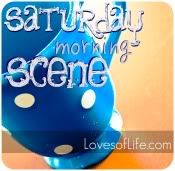 It's Saturday, and around here that means waffles! We got a belgian waffle maker after Christmas and since then we've savoured them once a week along with some fruit salad and the occasional slice of bacon.
Making waffles at home gives us the benefit of knowing exactly what's in them, so Emily has been enjoying them alongside us for the past few weeks. Most of it still ends up on the floor or wadded up in her fist, but she goes crazy for them!
Here is the recipe I've been using (an adaptation of Waffles of Insane Greatness):
3/4 cup whole wheat flour
1/4 cup of corn starch
1 Tbsp sugar
1/4 tsp baking soda
1/2 tsp baking powder
1/2 tsp salt
1/2 cup milk
1/2 cup buttermilk (I do the vinegar/lemon juice trick)
1 egg
2 tsp vanilla
2 Tbsp oil
2 Tbsp applesauce

I mix the wet ingredients together in a small batter bowl (Pampered chef) and then the dry ingredients in a small mixing bowl.
Add the dry ingredients to the wet ingredients and stir until incorporated.
Let sit for 30 minutes (I don't always make it the full 30, but they always come out great!) then cook following the directions of your waffle iron. I cook until they stop steaming.
Makes 4 waffles.
Enjoy!
Weight Watchers points: 6 per waffle